Image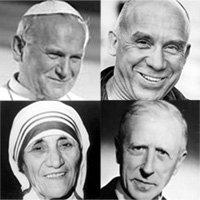 A Retreat with Four Spiritual Masters
Audiobook.
With gifted professor, author and contemplative retreat leader Fr. Donald Goergen, O.P. as your guide, explore the spiritual insights of four great spiritual masters with this one-of-a-kind retreat experience.
This 24-conference series is designed to capture your spiritual imagination and deepen your life with Christ.
What You Will Experience
Deepen your Christian life with the guidance of four diverse yet complementary 20th Century spiritual masters: Pierre Teilhard de Chardin, Thomas Merton, Blessed Mother Teresa of Calcutta and Blessed Pope John Paul II.
Spend 6 conferences with each spiritual master. Each 6-part series is grounded in themes and writings of that particular spiritual master, and can be used as a retreat by itself.
These four spiritual masters endured the cost of discipleship and became more conformed to Christ through his or her own distinctive calling. Teilhard was a scientist but also a mystic with a cosmic vision. Merton was perhaps the most prominent Catholic American spiritual writer of the 20th Century. A monk and seeker, he was restless, deeply contemplative, socially conscious and always writing. Mother Teresa's spirituality was oriented toward the poor. Acutely aware of the gospel's commands, grounded in her commitment to Christ and devotion to the Immaculate Heart of Mary, she saw herself as a mystic of darkness. The final mystic in the series is Pope John Paul II, who lived a providential life indeed. A defender of human dignity for all, he has become a symbol of hope, of the potential of the human spirit, and of the transformative power of grace.
All four share these last qualities despite their different calls. Let these four spiritual masters accompany you and offer wise guidance in your journey to eternal life.